Got some great weather yesterday at St Joe, put lines in at 7:15am about a mile southeast of the spot where we got bit good last week.
just got set up and hit a 5 lb king at 7:35, two more by 7:45 my buddy kept grabbing the rods and i kept resetting them!
at 8:10 I got there first when a real screamer of a steelie hit the two-color with a double orange crush dreamweaver and ripped 100 or so feet of line. I'm fighting it and the rigger goes off! doubled up...
my buddy is trying to get to the rod when the port side dipsy fires off with a big rip. I had him grab that one and it was on!
I lost mine on its second big leap, huge steel, i was bummed. so i switched to the rigger rod but that fish was gone by then. at least jim boxed the king that hit the dipsy rod. blue dolphin dreamweaver magnum which turned out to be the hot lure for the day.
once we got everything reset we were a good mile out of "the zone" turned to go back and once we got back to our waypoints i picked up a big king on the dipsy/dw combo that went 12.5, my best king so far.
after that it slowed down a bit and we picked away to finish up with 10 fish: 2 lakers, 4 kings 1 steelie and 2 coho
I also managed to loose a big king the ripped the copper almost to the spool, got him back up the the surface about 100 feet back and he pulled loose when he made another run. Easily would have been my biggest king ever.
here's two of the big ones:
12.5 lb king
7+ lb laker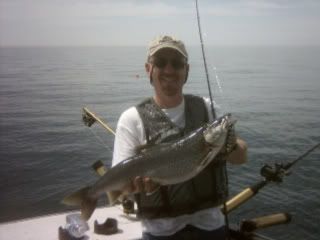 I did learn one valuable lesson: if your rigger spoon hooks the copper DO NOT just let the copper go after you remove it from the hook :-[
cheers
jerry